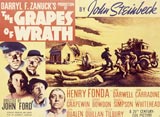 Well, I thought I'd take the new site out for a test drive with The Grapes of Wrath
Needless to say, this 1940 movie is based on the novel, The Grapes of Wrath by John Steinbeck. The screenplay was written by Nunnally Johnson known also for writing scripts such as The Dirty Dozen and The Three Faces Of Eve.
Summary: Tom Joad returns to his home after a jail sentence to find his family kicked out of their farm due to foreclosure. He catches up with them on his Uncles farm, and joins them the next day as they head for California and a new life… Hopefully. Based on the John Steinbeck novel.
More information about this movie at imdb.com